2018 EVENTS
2018 EVENTS
WALL OF HONOUR DINNER

Joe Montford will be the first Alumni member inducted to the Wall of Honour at Tim Horton's Field.
In his 9 year career (8 as a Tiger-Cat), Joe amassed 135 sacks to go along with 35 forced fumbles and 18 recoveries, He was a 5-time CFL All-Star and 3-time CFL Most Outstanding Defensive Player. He was voted #40 of the Top 50 CFL players of all time and was inducted into the Hall of Fame in 2011.
He will be inducted during a special reception and ceremony to take place on Thursday, August 23rd when the Tiger-Cats host the Eskimos.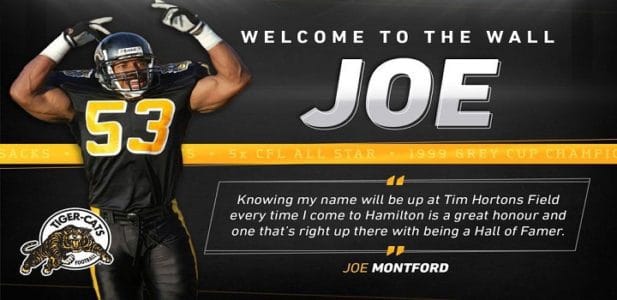 Other awards, records and additional comments
Click HERE for ticket information
WALK OF FAME
The Cats Claws will be hosting their Walk of Fame Induction Dinner at Carmen's on Thursday, July 12th at 6 pm.
This year's inductee is Dave Hack. Dave played ten sea CFL for the Hamilton Tiger-Cats. He was named Eastern All-Star five times and was a part of the Grey Cup championship-winning Tiger-Cats in 1999.
Tickets are $60 per person; please contact Carol Rose at crose2@cogeco.ca or (905) 664-6117 for tickets.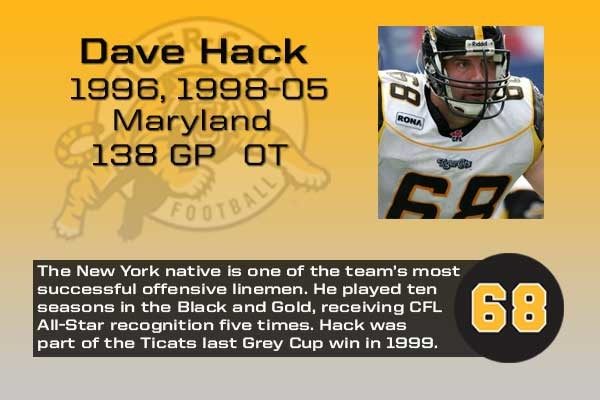 CFHOF INDUCTION WEEKEND
This year's Hall of Fame Induction will take place on Friday, September 14th.
Tiger-Cat Alumnus Frank Cosentino will be inducted as a builder and he will be joined by player inductees Scott Flory, the late Tommy Hugo, Hank Ilesic, Brent Johnson and Barron Miles. Paul Brûlé will be so honoured for his amateur playing career.
Frank played, coached, wrote and taught about the game, as a leading academic and Canadian football's 'professor emeritus'. He was drafted by the Hamilton Tiger-Cats first overall in the 1960 CFL Draft. During his 10-year CFL playing career, he helped Hamilton to five consecutive Grey Cup appearances, and Grey Cup victories in 1963 and 1965.
Visit www.CFHOF.ca for ticket information.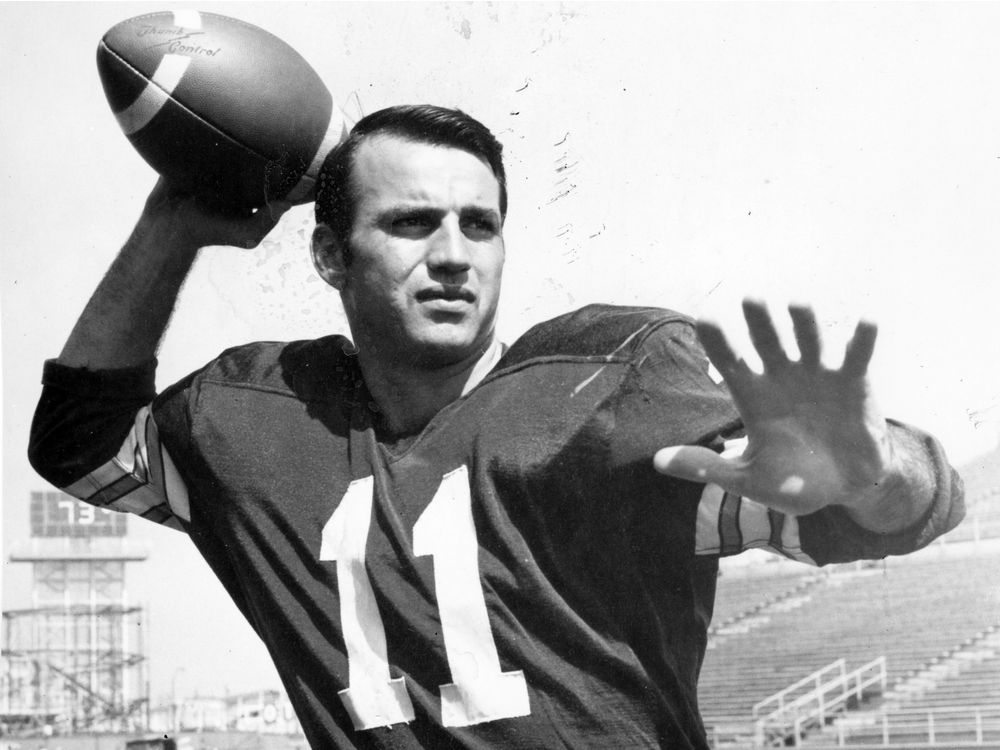 33rd ANNUAL ALUMNI GOLF TOURNAMENT

The Tiger-Cat Alumni hosted their 33rd Annual Golf Tournament on Monday, May 28th at Southbrook Golf & Country Club in Binbrook.
Over 100 Alumni and fans took part in a very fun and hot afternoon with lots of golf, food and prizes. Our tournament takes place the Monday after Victoria Day. Be sure to join us next year.
Check our Facebook page for pictures from the tournament.
TIM HORTON'S CAMP DAY
Tim Horton's held its' Annual Fundraiser to help send kids to camp on June 6th..
Over a dozen Alumni were helping out serving coffee and donuts at various Hamilton locations to support this worthy cause.
MEMBER NEWS
MEMBER NEWS
MEMBERSHIP ONLINE
Alumni can now register or renew their membership online with Pay Pal. You can pay via credit card or through your bank account. Pay/Register here.
HTCAA on FACEBOOK
We have created a new Tiger-Cat Alumni Facebook page for both alumni and fans to join and interact.
https://www.facebook.com/tigercatalumni/
The new page will be an extension of our website and allow us to better promote our events and activities as well as promote the history of the Club and hopefully engage more fans and alumni to participate. We encourage Alumni and fans to post news and pictures and engage in conversations.
TIGER-CAT - NEWS
TIGER-CAT - NEWS
ALUMNI IN THE NEWS
ALUMNI IN THE NEWS
Ex-CFLer Mike Morreale heads up new Canadian Elite...
Former Ticats DB Jykine Bradley settled in Brantford, training...
IN MEMORIAM
IN MEMORIAM
Gene Ceppetelli passed away on June 14th at the age of 78. Gene played Centre for 7 years in the CFL., including 5 with the Tiger-Cats (1963-67) where he was a member of the 63, 65 & 67 Grey Cup Champions.
Harry Lampman passed away on June 9th at the age of 87. Harry played 9 years in the CFL including 3 (1957-59) with the Tiger-Cats. He was a member of the 1957 Grey Cup Champion team.
William "Bill" Kyle passed away at the age of 92 on February 21, 2018, surrounded by his family, at St. Peter's Hospital, Hamilton.
Bill played during the 1947 season for the Hamilton Tigers. In his later years, he became actively involved with his beloved Tiger-Cats. He and his wife Connie were married for 64 years and they were a fixture at Tiger-Cats games over the years, where Bill held season tickets for 65 years.
Bill was a member of the Hamilton Tiger-Cat Alumni Association executive for many years, which required him to appear at countless community events over the years. He became a tireless promoter of the Hamilton Tiger-Cats. Bill was always a true gentleman in everything he did and a pleasure to know. He will be sorely missed by all his friends in the football community.
MEMORABILIA
MEMORABILIA

The Tiger-Cat Alumni are on a quest to collect "Team Memorabilia". We would like to display it on the web-site. Currently we are looking for "Team Pictures" and "Grey Cup ticket stubs".
We are also looking for "Game Program Covers" to complete the set on our web-site. If you have any programs from the past, please scan the cover and name the file with the year and opponent and email to admin@htcaa.ca
We are are also looking to collect items that you may want to lend or donate to the Alumni Association to put on display in our "Alumni Clubhouse" inside Tim Horton's Field.
If you have anything you feel may be of interest, please contact us at admin@htcaa.ca