2017 EVENTS
2017 EVENTS
1957 &'67 GREY CUP TEAM REUNION

The HTCAA hosted a combined reunion for the 1957 and 1967 Grey Cup Championship teams the weekend of September 30th when the Tiger-Cats clashed with the Argonauts.
In total, 20 players from these two championship teams were able to make for the special 50th and 60th Anniversary events.
A special private party was held on Friday night culminating in fireworks. On Saturday, the HTCAA hosted a Tailgate party for players and fans prior to the game where the players were recognized at half-time.
On Sunday the Club hosted a brunch for all in the Champions Club inside Tim Horton's Field.

HTCAA SIGNATURE ARTWORK
The Tiger-Cat Alumni Association has preserved the past with this unique "Signature Piece". Photos were taken of all the signatures from the walls of the old "Green room" at Ivor Wynne Stadium. Each signature was identified and verified before being placed on this special recreation.

Signatures go back as for the 1940's and include names like Ralph Sazio, Jim Trimble, Angelo Mosca, John Barrow for a total of 165 signatures.
Reproduced high quality framed Giclee on canvas prints measuring 2' x 2' can now be purchased online for just $300 including shipping. Please order below.
32d ANNUAL ALUMNI GOLF TOURNAMENT

The Tiger-Cat Alumni hosted their annual tournament on Monday, May 29th at Southbrook Golf & Country Club in Binbrook.
The weather and turn-out was excellent for our first event at Southbrook. Be sure to join us again next year.
CANADIAN FOOTBALL HALL OF FAME
INDUCTION WEEKEND
This years Induction weekend was held September 15/16th when the Tiger-Cats hosted the Saskatchewan Rough Riders.
Inducted this year was Anthony Calvillo, Geroy Simon, Mike O'Shea, Kelvin Anderson, Stan Schwarts and Brian Towriss. Please see www.cfhof.ca for more info.
WALK OF FAME DINNER
There will be no Walk of Fame dinner this year.
WALL OF HONOUR DINNER

There is no Wall of Honour Dinner this year..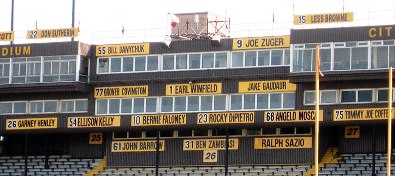 MEMORABILIA
MEMORABILIA

The Tiger-Cat Alumni are on a quest to collect "Team Memorabilia". We would like to display it on the web-site. Currently we are looking for "Team Pictures" and "Grey Cup ticket stubs".
We are also looking for "Game Program Covers" to complete the set on our web-site. If you have any programs from the past, please scan the cover and name the file with the year and opponent and email to admin@htcaa.ca
We are are also looking to collect items that you may want to lend or donate to the Alumni Association to put on display in the "Alumni Clubhouse" inside Tim Horton's Field.
If you have anything you feel may be of interest, please contact us at admin@htcaa.ca
MEMBER NEWS
MEMBER NEWS
MEMBERSHIP ONLINE
Alumni can now register or renew their membership online with Pay Pal. You can pay via credit card or through your bank account. Pay/Register here.
TIGERTALES NEWSLETTER

The official newsletter for the Hamilton Tiger-Cat Alumni and fans. It's filled with news, events and fun information about the Association and its members. It is available for viewing online. Be sure to check it out!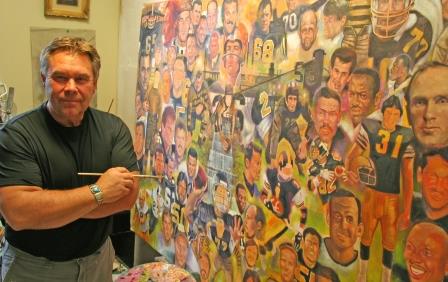 The Alumni have partnered with a renowned sports artist Gary McLaughlin to recognize 75 of the best players to wear a Hamilton uniform.

The painting depicts all of those players inducted into the Hall of Fame Wall of Honour, the Walk of Fame and the recently named All-time team." View the print here!

In recognition of the 145th consecutive season of football in Hamilton in 2014, a limited edition set of 145 high quality prints were created. Each print is individually signed by 26 of the 75 Alumni depicted in the painting. Each print comes with a legend and Certificate of Authenticity.

This the ultimate Tiger-Cat Collectors item! Autographed prints sell for only $100 and are available for purchase online or email us to arrange local pick-up..

<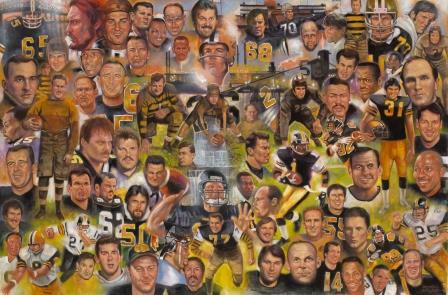 Unautographed poster of print alone is also available for only $20. Measures 16" x 24" Get yours today!
PERSONAL PROFILES
Alumni, please log into the members section of the website and complete your Personal Profile.
It gives you the opportunity to record memories of your playing career and to up-date us on what you have done post career. Complete profiles will be posted on the web-site for all fans to enjoy.