"WISSENZ LAW"
35th ANNUAL TIGER-CAT ALUMNI
GOLF TOURNAMENT
The HTCAA is pleased to announce a new host for our 2020 Golf Tournament. Flamborough Hill Golf Club in Copetown will be hosting our 35th Annual Tournament.
We also thank and welcome back "Wissenz Law" as our Title Sponsor.
Come mix and mingle with dozens of Tiger-Cat Alumni for a fun and prize filled day of golf.
Registration is $175 and includes golf, cart, lunch, dinner and many registration gifts. The tournament will be held on Monday, May 25th, tee-off at 12:30 pm.
You can register and pay online below via PayPal.
Other options include, cash, cheque, credit card or
e-transfer to htcaa@bell.net, password "golf2020"
2019 EVENT RECAP
2019 EVENT RECAP
ROB HITCHCOCK LATEST INDUCTEE TO
TIGER-CATS WALL OF HONOUR
1999 GREY CUP CHAMPS TO CELEBRATE 20 YEAR REUNION


Rob Hitchcock was the 24th Tiger-Cat inducted to the Wall of Honour at Tim Horton's Field.

Hitchcock played 200 games over 12 seasons with the Tiger-Cats (1995-2006), winning a Grey Cup with the team in 1999, and currently holds the all-time franchise records in combined tackles (606), defensive tackles (484) and special teams tackles (tie-122).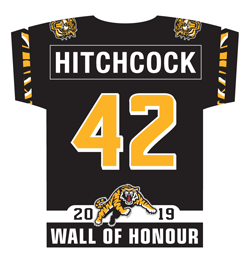 The 6-2, 210-pound Hamilton native also sits second in franchise history in all-time interceptions (36) and fourth in games played (200), while adding 11 quarterback sacks and seven fumble recoveries.

Hitchcock was named a CFL All-Star twice (1999, 2001), an East Division All-Star three times (1999, 2001, 2002), a CFLPA All-Star in 2002, and was Hamilton's Most Outstanding Canadian three times (1999, 2002, 2006) and Most Outstanding Defensive Player in 2002.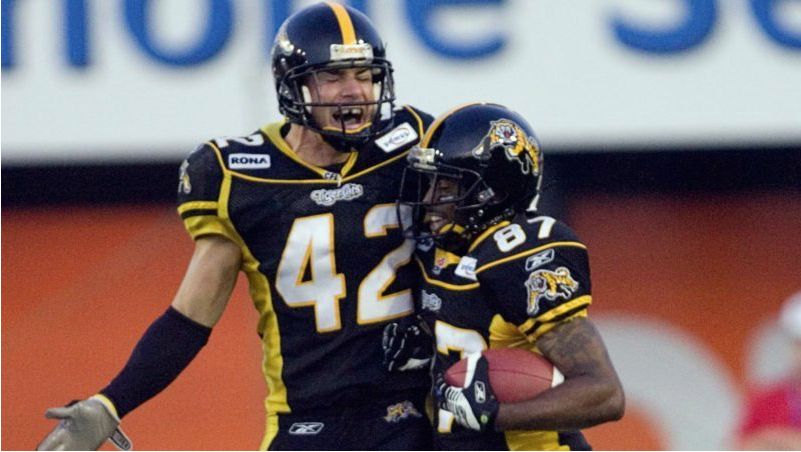 He was inducted during halftime on Friday, October 4th when the Tiger-Cats hosted the Eskimos.

Rob was joined by many of his former teammates as the Club and the HTCAA also celebrated the 20th Anniversary of the 1999 Grey Cup Champions.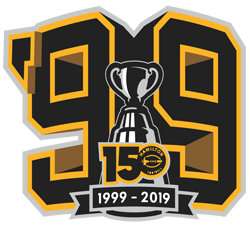 34th ANNUAL TIGER-CAT ALUMNI
GOLF TOURNAMENT
Over thirty alumni were on hand to take part in our annual golf tournament at Southbrook Golf & Country Club.
A fantastic almost sell-out field along with great weather, food and prizes made this the most successful tournament ever. Thanks to all that participated and especially to our sponsors.
Mark your calendars for Monday, May 25th next year as we traditionally play the Monday following Victoria Day.
HTCAA HOLDS SUCCESSFUL FUNDRAISER
TO SUPPORT CHILDHOOD CANCER
The Hamilton Tiger Cats Alumni, Believe in the Gold, and Ryan Saturno Patient Amenities Fund "teamed up" to make a difference for families affected by Childhood Cancer in Hamilton and area.
The HTCAA hosted a Rock and Roll event featuring "The Rockets" at This Ain't Hollywood, on Friday, June 21. Over $16,000 was raised through ticket sales, silent auction and donations.
Funds raised from this celebration of Rock and Roll Event will go to raise awareness about childhood cancer.  Half of the funds raised from this event will go to support local families in the Hamilton Community to support families financially that are impacted by childhood cancer.  The remaining 50% will go directly towards vital and ground breaking research for childhood cancer.
MEMBER NEWS
MEMBER NEWS
MEMBERSHIP ONLINE
Alumni can now register or renew their membership online with Pay Pal. You can pay via credit card or through your bank account. Pay/Register here.
HTCAA on FACEBOOK
We have created a new Tiger-Cat Alumni Facebook page for both alumni and fans to join and interact.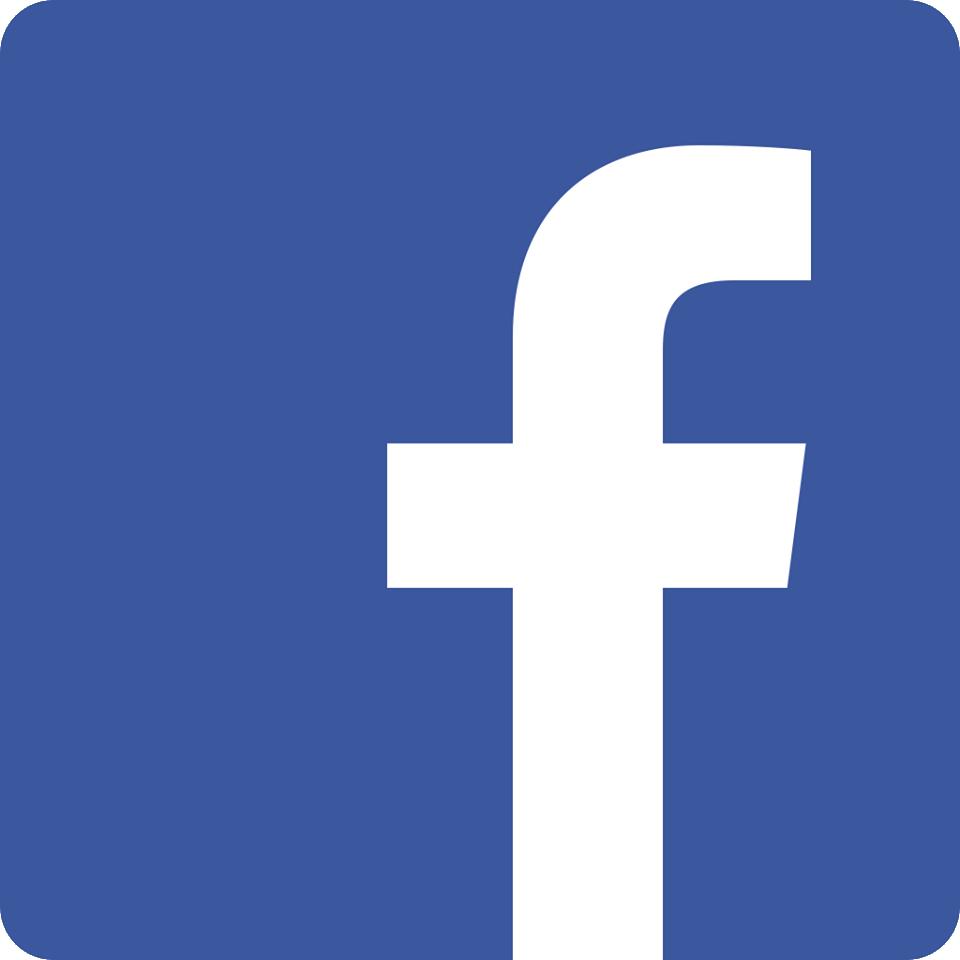 The new page will be an extension of our website and allow us to better promote our events and activities as well as promote the history of the Club and hopefully engage more fans and alumni to participate. We encourage Alumni and fans to post news and pictures and engage in conversations.
TEAM NEWS
TEAM NEWS
Highlights of 150 Years of Tiger-Cat Football

History of 150 Years of Tiger-Cat Football
Ticats vs. Argos — who's the oldest team in N.A.?
Ticats establish many records as regular-season ends
ALUMNI IN THE NEWS
ALUMNI IN THE NEWS
TIM HORTON'S CAMP DAY
Tiger-Cat Alumni were once again out in force to assist in the Tim Horton's Annual Fundraiser to help send kids to camp. Thanks to Ryan Donnelly, Peter Dyakowski, Mike Samples, Jason Riley and Rocky DiPietro
ALZHEIMER FUNDRAISER
The Club helped organize a special event to raise funds in support of Alzheimer's. Held at Macassa Lodge senior's home on Upper Sherman, resident Angelo Mosca was joined by Less Browne, Jason Riley, and Ben Zambiasi. The community room was packed for a fun-filled afternoon that was also entertained by Tiger-Cat mascot "Stripes".
TIGER-CATS ANNOUNCE NEW PIGSKIN PETE
Thirty-six-year-old Geoff Connor is the new Pigskin Pete.
Connor earned the honour after garnering more than 12,000 fan votes. He was one of more than 50 people who applied for the job.
Geoff is a Hamilton high school teacher and has been a football coach for 15 years

Connor has some family history with the team, his mother was a Tiger-Cat majorette in the 1960s.

He will be the 5th Pigskin Pete replacing Dan Black who resigned last season.
IN MEMORIAM
BOB STEINER
The HTCAA is sad to announce the passing of Bob Steiner. Bob passed away in his sleep on Feburary 25th at the age of 73.

Bob played Defensive Tackle for the Tiger-Cats from 1976 – 71 and was a member of the 1967 Grey Cup Championship team.
PETE NEUMANN
The Hamilton Tiger-Cat Alumni is sad to announce the passing of Pete Neumann. Pete died on January 1st in his 89th year in St. Catharines.

Pete played Defensive End for the Tiger-Cats from 1951-64 and was a 9 – time Eastern All-Star, CFL All-Star in 1964 and played in 8 Grey Cups while winning 3. He was also an inductee of the Tiger-Cat Wall of Honour & Walk of Fame as well as an inductee of the Canadian Football Hall of Fame.

Pete started his football path by playing for his home town high school, St. Catharines Collegiate. At the age of 19 he was scouted and recruited by Carl Voyles who was the head coach of the Tiger Cats at that time. He also had the opportunity to sign with the Toronto Argonauts who were interested in him but Pete chose Hamilton instead. Pete not only made the team in 1951 he also started for the Black and Gold and ended up playing beside Ralph Sazio, who would be his coach one day.

BILL GRAHAM
The Hamilton Tiger-Cat Alumni Association is sad to announce the passing of Bill Graham. He died this past Wednesday at the age of 83. Bill played halfback for the Tiger-Cats in 1953 and 1957 – 60. He also played in 4 Grey Cup games with the Cats winning two, the first in his rookie year 1953 and also in 1957. He originally tried out and made the Tiger-Cats at the age of 17 right out of high school.
BILL DANYCHUK
The Hamilton Tiger-Cat Alumni Association is sad to announce the passing of Alumnus Bill Danychuk. Bill passed away Friday at the age of 79 after short battle with cancer.

Bill played for the Tiger-Cats from 1964 to 1975 and was an Eastern All-Star Offensive Lineman 5 times and CFL All-Star twice. He was also part of three Grey Cup Championship teams during his time with Hamilton. Bill was also inducted into the Tiger-Cats Wall of Honour.

Bill was born in Timmins before moving to Niagara-on-the-lake where his football career began in High School and then onto the University of Tennessee. After his Tiger-Cat career he had a very successful business career running Bazaar & Novelty

CFL NEWS
CFL NEWS
CFHOF INDUCTION WEEKEND
The Canadian Football Hall of Fame (CFHOF) and Museum's stellar Class of 2019 featured one of the Canadian Football League's (CFL) top Canadian running backs, three receivers who were dominant in relatively short CFL careers, a player who excelled at two positions, a transformative figure in Saskatchewan football and a legendary university coach from British Columbia.
The Inductees were Jon Cornish, Mervyn Fernandez, Terry Greer, Ernie Pitts and David Williams in the Player category. In the Builder category, former Saskatchewan club president Jim Hopson and legendary University of British Columbia coach Frank Smith have been selected.
The Induction ceremony for this year's CFHOF class was held on Friday, August 9 at Tim Hortons Field.
MEMORABILIA
MEMORABILIA
The Tiger-Cat Alumni are on a quest to collect "Team Memorabilia". We would like to display it on the web-site. Currently we are looking for "Team Pictures" and "Grey Cup ticket stubs".
We are also looking for "Game Program Covers" to complete the set on our web-site. If you have any programs from the past, please scan the cover and name the file with the year and opponent and email to admin@htcaa.ca
We are are also looking to collect items that you may want to lend or donate to the Alumni Association to put on display in our "Alumni Clubhouse" inside Tim Horton's Field.
If you have anything you feel may be of interest, please contact us at admin@htcaa.ca