CONGRATULATIONS!!
CONGRATULATIONS!!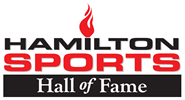 Congratulations to all of the Hamilton Tiger-Cat Alumni who have been inducted into the Hamilton Sports Hall of Fame.
2015
2014
2013
Bill Sturrup - Broadcaster
Dr. David Levy - Team Physician
2012
2011
2010
1967 Hamilton Tiger-Cat Grey Cup winning team
David Braley - Owner
LEE KNIGHT HAS NUMBER RETIRED
LEE KNIGHT HAS NUMBER RETIRED
Former Canadian Football League slotback Lee Knight is the second Burlington Brave to have his number retired.
The ceremony marking the occasion took place at the Ontario Football Conference team's home opener at Nelson Stadium.
Knight, who wore No. 23 as a Brave, joins CFL Hall-of-Famer Peter Dalla Riva (No. 75) in the select group.
Knight, a Burlington native who attended Lord Elgin (now Robert Bateman) High School, played two-and-a-half years with the Braves before being called up to the Hamilton Tiger-Cats' practice squad that resulted in a 10-year (1987-97) pro career.
TIGER TALE TIDBITS
TIGER TALE TIDBITS
On Friday, August 20th, 2010 at the Moss Park Armoury in Toronto, the Jake Gaudaur Veteran's Award trophy was unveiled honouring  Jake's memory and that of all Veterans.
Jake Gaudaur was a Canadian hero.  A Canadian fighter pilot instructor during the Second World War.  Jake played in Hamilton for the Tigers in 1940 and 1948-49 and then the Tiger-Cats from 1950-51 & 1953. He won Grey Cups as a player and as an Executive, before serving as Commissioner of the Canadian Football League  from  1968 to l984.
His story embodies the historic bond between our league and our Veterans and will  be celebrated with the introduction of this trophy.Created by the CFL and Veterans Affairs Canada, it will be presented each year to a CFL player who best demonstrates the attributes that have always defined Canada's Veterans:  strength, perseverance, courage, comradeship and contribution to Canadian communities.
On November 24th in Edmonton, Saskatchewan Roughrider Mike McCullough was announced as the first winner of the Jake Gaudaur Veterans' Award
WEB SITE MEDIA RELEASE
WEB SITE MEDIA RELEASE
Read the Media Release announcing our new web site - click here