CONGRATULATIONS JOE!!
CONGRATULATIONS JOE!!
Hall of Fame defensive end to become Ticats 23rd WOH inductee on August 23
The Hamilton Tiger-Cats and the Hamilton Tiger-Cat Alumni Association (HTCAA) announced Thursday that former player Joe Montford will be inducted to the Wall of Honour at Tim Hortons Field on Thursday, August 23, 2018. Montford's name and number 53 will join other distinguished Wall of Honour inductees on the upper facade on the west side of the stadium during halftime of the Ticats game against the Edmonton Eskimos.
"Joe Montford was not only one of the best players in Tiger-Cats franchise history, but also CFL history. He was a dominate pass rusher throughout his career and his accomplishments as a Tiger-Cat make him an obvious choice," said Bob Young, Caretaker of the Tiger-Cats. "Being enshrined onto the Wall of Honour is the single largest acknowledgement of excellence the franchise and alumni association can provide. It symbolizes elite performance over a sustained period wearing the Black and Gold as evidenced by the legendary names honoured in the past."
Montford played 141 games over eight seasons with Hamilton (1996-2001, 2003-04) winning a Grey Cup with the team in 1999, and sits second in franchise history in career defensive tackles (460), quarterback sacks (115) and fumble recoveries (18). He was named the CFL's Most Outstanding Defensive Player three times (1998, 2000 & 2001) and was a CFL and Divisional All-Star in four consecutive seasons (1998-2001). The 6-1, 225-pound native of Beaufort, North Carolina, also set the Tiger-Cats single-season record with 26 quarterback sacks in 1999, just 0.5 shy of James Parker's CFL record 26.5 sacks set in 1984.
"Knowing my name will be up at Tim Hortons Field every time I come to Hamilton is a great honour and one that's right up there with being a Hall of Famer," said Montford. "I'm proud of what we accomplished on the field, but the things I remember most about being a Ticat were the great teammates and coaches I had, and obviously the fans. I can't wait to share this with them in August."
Montford, a product of South Carolina State, ranks fifth all-time in CFL sacks (135) and was ranked #40 in TSN's Top 50 CFL Players of All-Time in 2006. He was inducted to the Canadian Football Hall of Fame in 2011.
Wall of Honour enshrinement is based on a rigorous criteria established by the Tiger-Cats and the HTCAA. The winner is voted upon by a committee composed of members from the Club, HTCAA, local media and the team's TigerTown Council. Since 1998, 22 players and builders have been named to the Wall of Honour: Rocky DiPietro, Bernie Faloney, Ellison Kelly, Angelo Mosca, Tommy Joe Coffey, Garney Henley, John Barrow, Ben Zambiasi, Ralph Sazio, Grover Covington, Jake Gaudaur, Earl Winfield, Bill Danychuk, Joe Zuger, Less Browne, Don Sutherin, Vince Scott, Tommy Grant, Paul Osbaldiston, Pete Neumann, Bob Krouse and Willie Bethea. Montford will be the first to be enshrined at Tim Hortons Field.
CONGRATULATIONS!!
CONGRATULATIONS!!
Congratulations to all of the Hamilton Tiger-Cat Alumni who have been inducted into the Hamilton Sports Hall of Fame.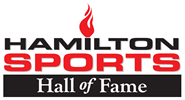 2020
2019
2018
2015
2014
2013
Bill Sturrup - Broadcaster
Dr. David Levy - Team Physician
2012
2011
2010
1967 Hamilton Tiger-Cat Grey Cup winning team
David Braley - Owner