Hamilton Tiger-Cat Alumni Association
Welcome to the home of the Hamilton Tiger-Cat Alumni. Our goal is to build membership and awareness of our Association and to recognize the rich history of football in Hamilton.
It is an ever evolving interactive site for all Tiger-Cat fans to contribute and build through photos, comments and information.

This site is a resource of the history of everything Ti-Cat; from rosters to awards, profiles to statistics plus cards and collectibles. Check out our events page for where to meet some of your favourite alumni.
All current and former CFL & Tiger-Cat players, coaches, management and staff are welcome to apply for membership. We have over 160 members and are continually recruiting. Visit our members' page for more membership information.
Our site is for fans and alumni, so be sure to participate.
2016 EVENTS
2016 EVENTS
1980's - 1986 GREY CUP TEAM REUNION
& TAILGATE PARY -

The HTCAA hosted a fantastic 30th year reunion for the 1986 Grey Cup Championship team on the August 20th weekend.
Weekend highlights included a wonderfully hosted and catered house party courtesy of David Sauve.
On Saturday before the game, hundreds of fans joined the 86 team at a pregame tailgate where everyone had a chance to mix, mingle and catch-up from many years gone by.
The Club held a special half-time ceremony introducing members of the 86 team and Alumni also had a chance to enjoy our new Clubhouse.
The weekend concluded with special tour of Tim Horton's Field and a brunch hosted in the Champion's Lounge overlooking the field.
Be sure to check out the link to the September issue of Tigertales for more stories and pics from reunion weekend.

31st ANNUAL ALUMNI GOLF TOURNAMENT

The Tiger-Cat Alumni held their 31st annual golf tournament on Monday, May 30th at MontHill Golf Course in Caledonia.
Beautiful weather and a beautiful course laid host to another successful event as over two dozen Alumni took part in a near sold out event.

WALK OF FAME DINNER
The Cats Claws Fan Club  held their Annual induction dinner on June 13th at Carmen's Banquet Centre. This years inductee is Mike Morreale. Over a dozen Tiger-Cat Alumni took in the event including presenter Rob Hitchcock.


CANADIAN FOOTBALL HALL OF FAME
INDUCTION WEEKEND
This years Induction weekend was held in Hamilton. on Friday September 16th. This years inductees included James West, Doug Brown, Derrell Mitchell, Rodney Harding as players and Don McDonald in the builder category.
Check out pictures in our September issue of Tigertales.
WALL OF HONOUR DINNER

Unfortunately there will not be a Wall of Honour Dinner or induction this year.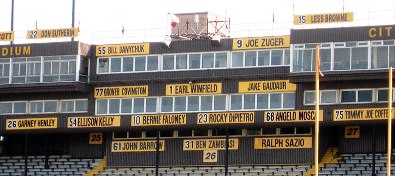 WALL OF HONOUR SIGNS FOR SALE!
If you're a big Ti-Cat fan, here's your chance to get a big piece of authentic Tiger-Cat Alumni memorabilia.
For sale are the ORIGINAL Wall of Honour signs that were displayed on the press box at Ivor Wynne stadium.
Signs measure 3' high and length depends on each name. Signs are available for purchase for $200. Please contact us for more info.
Signs remaining are:
Don Sutherin
Bill Danychuk
Ralph Sazio

COMMENTS & PHOTOGRAPHS
COMMENTS & PHOTOGRAPHS

Share for your favourite Tiger-Cat memories or photos here on our site.
Tell us about a game, a play, an encounter or send us your personal Tiger-Cat photo and we might post it in the fan submission section on our site.
Comments open to fans and players.
MEMBER NEWS
MEMBER NEWS
MEMBERSHIP ONLINE
Alumni can now register or renew their membership online with Pay Pal. You can pay via credit card or through your bank account. Pay/Register here.
ALUMNI ROOM DONATIONS
Members, you can make your donation to our new Alumni room online using PayPal. Donations can be made by credit card or withdrawn directly from your bank account.
Please access our membership page to make your donation.
TIGERTALES NEWSLETTER

The official newsletter for the Hamilton Tiger-Cat Alumni and fans. It's filled with news, events and fun information about the Association and its members. It is available for viewing online. Be sure to check it out!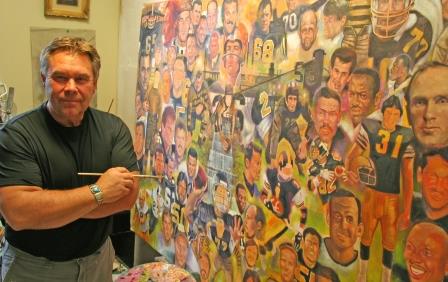 The Alumni have partnered with a renowned sports artist Gary McLaughlin to recognize 75 of the best players to wear a Hamilton uniform.

The painting depicts all of those players inducted into the Hall of Fame Wall of Honour, the Walk of Fame and the recently named All-time team." View the print here!

In recognition of the 145th consecutive season of football in Hamilton, there is a limited edition set of 145 high quality prints available for purchase. Each print is individually signed by 26 of the 75 Alumni depicted in the painting.

This the ultimate Tiger-Cat Collectors item! Prints sell for only $10 and are available for purchase online or email us to arrange local pick-up..

<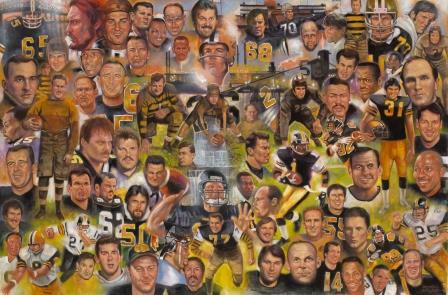 Unautographed Poster of print alone are now also available for only $20. Measures 16" x 24" Get yours today!
PERSONAL PROFILES
Alumni, please log into the members section of the website and complete your Personal Profile.
It gives you the opportunity to record memories of your playing career and to up-date us on what you have done post career. Complete profiles will be posted on the web-site for all fans to enjoy.
MEMORABILIA
MEMORABILIA

The Tiger-Cat Alumni are on a quest to collect "Team Memorabilia". We would like to display it on the web-site. Currently we are looking for "Team Pictures" and "Grey Cup ticket stubs".
We are also looking for "Game Program Covers" to complete the set on our web-site. If you have any programs from the past, please scan the cover and name the file with the year and opponent and email to admin@htcaa.ca
We are are also looking to collect items that you may want to lend or donate to the Alumni Association to put on display in the "Alumni Room" inside the new stadium.
If you have anything you feel may be of interest, please contact us at admin@htcaa.ca